Our team at Callywith College has been awarded with the Kiers sub-contractor SHE award for the month of May!
Experienced painters / decorators required! Contact us on 01209 714165
Williams & Martin - Painting Partnerships
After over 30 years of successful continuous trading Fred Williams Managing Director of Williams & Martin Decorators has begun a graduated retirement following the sale of the business to Westcountry Maintenance Services Ltd (WMS Ltd).
Fred commented, "I'm delighted to have sold the business to Michael Sussex of WMS as I know the reputation of the business I've worked hard to build along with my staff will be continued on as its very much business as usual".
Fred will remain working in the business in a development role on a part time basis.
New owner Michael Sussex commented, "WMS Ltd is a growing business and the acquisition of Williams and Martin and Fred's considerable experience can only enhance the painting division of our business. We are all ready working closely together.
Williams and Martin offer a comprehensive range of internal and external decorating services to both commercial and domestic clients across Cornwall and Devon.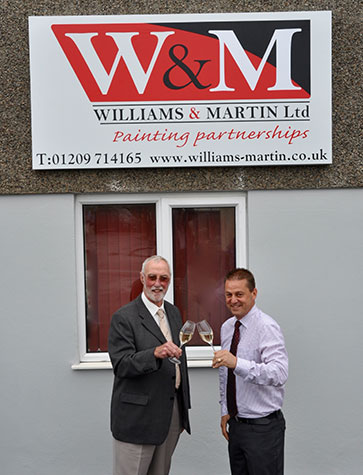 Fred Williams Left, Michael Sussex Right